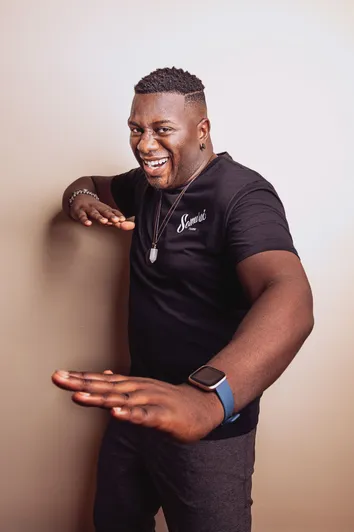 SAMURAI SEMINARS
Samurai Seminars are conveniently scheduled in the format of two consecutive ten hour weekends, engaging you in five hours of learning each day, for a total of 20 hours of content. The cap for attendees is 28 so that the sessions are intimate, allowing you to connect with other participants and your instructor, Dr. Ofili, in ways that personalize your experience and make it memorable. Prepare to be challenged and to develop your voice, style, vision, expertise, intuition, and strength as a result. This process applies learned knowledge to real world experiences, puts theory into practice, and introduces you to the true landscape of the chiropractic profession—a landscape that exists outside of the protective framework of a degree program. Overall, the goal is for you to learn to become profitable by enhancing your skills in the craft, art, philosophy, communication, and business of chiropractic.
SAMURAI MENTORING
Samurai Mentoring is a training program for new chiropractors that functions to ensure your profitability by the 90th day of practice. The mentoring program is a one-on-one experience that includes weekly communication via phone calls and Zoom meetings to pinpoint your personal professional vision, and to build a foundation upon which it will undoubtedly manifest. The program provides 90 days of mentorship as you develop your chiropractic business, teaching you effective provider-patient financial communication strategies—including the process of meeting patients where they are with sliding scale service fees and affordability, all while remaining profitable. The program concludes with an in-person weekend intensive training session with Dr. Ofili, where you will:
Shadow him at his practice;
Role-play financial conversations;
Clarify a personal professional vision;
Make final preparations for the practice of your dreams.
SAMURAI CONSULTING CALLS
Samurai Consulting Calls provide you with the opportunity to work with Dr. Ofili in a one-on-one setting. These hour long phone sessions are designed to help you troubleshoot any challenges you are up against. Developing your practice comes with inevitable struggles, and having an experienced mentor to talk to can quickly transform them into opportunities, and, ultimately, strengths. The process of breaking down each issue—whether it is energetic, systemic, or a simple plateau in achievement—removes obstacles from your professional path, unblocking your practice and unlocking an experience of self-discovery.
Interested parties, please contact me here